This trip was an absolute dream come true for so many reasons. The business end of it is more than anyone in their first years of business could ever ask for. But the pleasure end of it was just as amazing. I adore Paris (who doesn't really.) It was my third time visiting and I don't think I will ever ever tire of it. But it was Chris' first trip to Europe! And I was beyond excited to experience the city with him. To see it for the first time through his eyes. And it did not disappoint!
We landed super super early on Thursday morning. Me, in my infinite wisdom, wore white. Which I proceeded to spill coffee all over before even leaving LAX. I was tired. And gross. And dirty. And my teeth had those ick sweaters on them that you get when you haven't brushed. But we couldn't check in until 2 pm and there was a whole city to see. There are no pictures because I was cranky. But we gave ourselves a tour of our new 'hood, found our first (of many many many) baguettes and visited The Opera before heading home for a well needed nap.
We woke up at dark and decided our first act should be super douper touristy. Eiffel Tower!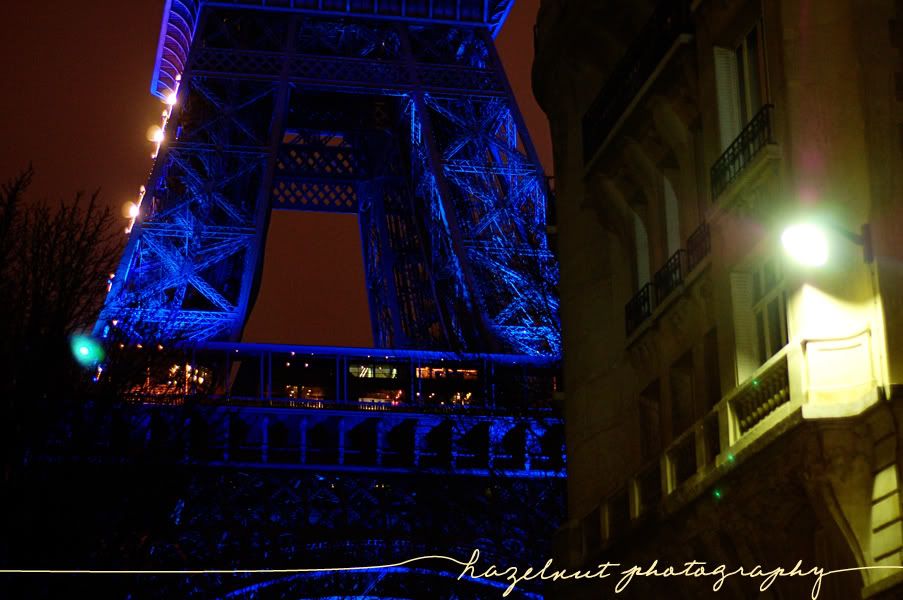 The View from the Top.
We left the Tower and headed to the Champs Elysses. Tons and tons of people, everywhere. We are just about to cross the street. Look Left, good. Look Right, Santa?
I'm not exactly sure what this was. And no one we asked seemed to know either. Hundreds… maybe even thousands of people, dressed like Santa, on motorbikes, tooling down the Champs Elysses. Not leisurely strolling… tooling. Like teenagers. It was absolutely amazing.
The Arc de Triomphe.
I think we ended the night with a bottle of wine, cheese and bread. We would end every night this way. And this is why I currently must attend classes at the gym every day, for the rest of the year.
Day 2
Strolling somewhere, we see a school group singing carols in the street. These two liked me and my camera. So they posed. Lots.
The bread in Paris is to die for. I could eat only Parisian baguettes for the rest of my life and die happy. Even the birds heart it.
This is the only sun we saw the 10 days we were in Europe. It was cold, grey and ugly for most of it. Made me so grateful for the Southern California weather!
I tried to go light on the camera equipment for walking the city. I used only my very first dSLR, the Nikon D50, and my absolute lightest lens, a 50 mm 1.8. But with the camera and the video camera, my shoulders were KILLING me by noon. Lucky me, Chris got to enjoy the purse for a good chunk of the day. (I love you Chris)
Montmartre.
Sacre Coeur
I may have had a slight pigeon obsession on this trip.
Some of the best stuff is a happy accident. Like this image below. I was taking a picture of the sunset. Didn't realize that I'd caught the wing tip of a pigeon until I uploaded the cards. Not sure how it happened really. Happy Accident.
And an end to the day with the trees, the sun and the Eiffel Tower.
I have an awful memory. I think we visited the Moulin Rouge after this. And popped by Notre Dame. But it was closed (no worries… we went back!) Then a creperie for dessert, followed by dinner. I'm sure then there was wine, cheese and bread.
Because there was so little planning time for this trip due to the immense To Do List prior to our departure, we decided to wing it. The whole trip. So different from my usual MO, whereby I buy books and research and make lists and circle maps and create plans. We wondered through the city instead. We talked to people on the metro, asked waiters for suggestions and just took in the city. We made sure to hit the main attractions though. An excellent planner took care of us… thanks for your list Kerrie, we would have been lost without it!
Day 3 was shoot day. Shoot day ALLLLL day. Parisian parties are a bit different. They start late and end early. I don't think I've ever shot anything at 4 am until this night. Sadly, all of the images are to be kept confidential, so I can't share with you all! It was perhaps the most over-the-top soiree I've attended. Something out of a wild dream. An amazing reason to fly to Paris.